Embarking on a renovation is an exhilarating time for any homeowner. At Bonny Builders Group, we take pride in our years of exceptional craftsmanship, and are ready to turn your space into the dream kitchen you've always envisioned. With our wide kitchen remodeling services, you can leave all your worries behind. Our expertise encompasses everything, from design plans to seamless installation. Whether you desire new countertops and cabinets or seek to update your appliances, we have the expertise and resources to bring your vision to life. Let us help you create the kitchen you've always dreamed of, where functionality meets aesthetics in perfect harmony.
Ready to Elevate Your Kitchen?
Your kitchen serves as the heart of your home, and upgrading it is not only an investment in your living space but also a valuable enhancement to your property. Sometimes, a well-deserved renovation is all you need to breathe new life into your culinary haven. We understand the significance of this undertaking, which is why we strive to be your top choice for kitchen remodeling contractors in Ventura County. When it's time to revitalize your kitchen, trust us to deliver the exceptional results you deserve.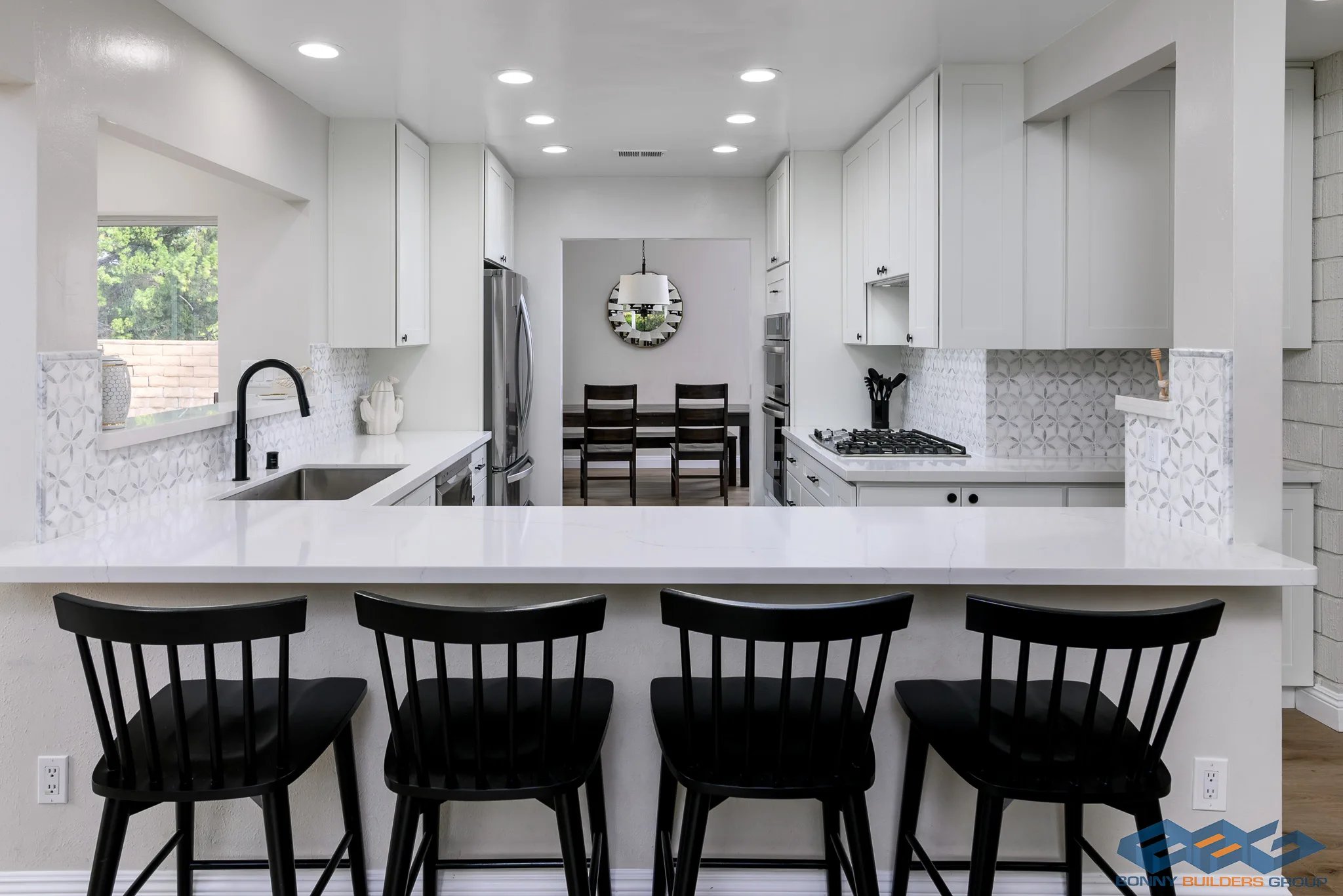 Counters, Cabinets, Fixtures, Flooring & More!
Bonny Builders Group offers a wide range of services that cater to every budget and aspiration. From essential kitchen renovation packages designed for those on a budget to awe-inspiring complete kitchen makeovers, we have a solution that suits everyone's needs. Our dedicated team understands that each kitchen is unique, and we take pride in our design process that incorporates careful consideration and expert insight. Let Bonny Builders Group bring your kitchen dreams to life with our expertise and commitment to excellence.
We understand the importance of a well-defined plan to ensure the success of your project. Bonny Builders Group is committed to working closely with you every step of the way. Together, we will create a plan that not only aligns with your vision but also fits within your budget.
Through detailed discussions and consideration, we then explore various materials and options to determine what works best for your space. Our goal is to create a plan that not only meets your aesthetic preferences, but also makes practical sense for your lifestyle, ensuring functionality and durability. With our collaborative approach, you can trust that the end result will be a well-executed project that surpasses your expectations.
Next, we provide you with a quote for your project that includes our time and overall costs. During construction, our experts will be on-site overseeing each stage of the process so that nothing gets overlooked. After initial construction has been completed, our specialized detail team provides the finishing touches so everything looks perfect!
We provide the highest quality craftsmanship and work with top materials to ensure that your project is built with care and professionalism and up to the current building codes.
We have built our reputation as a quality general contractor with 39 years of industry experience. Our team is passionate about construction. Let us exceed your expectations!
You can count on us for creative design ideas, highly personalized service and attention to detail in all aspects of your project. We treat every client on all projects like family.